Ok, so here's the deal: a chocolate chip cookie can fix anything, and in my opinion, is the quintessential American cookie. Arguably, a cookie tray isn't complete without it. I have dedicated the majority of my life to finding the perfect chocolate chip cookie recipe (ok maybe that's overstating it a little…but I have searched!!) I have, for your culinary consideration, a fabulous chocolate chip cookie recipe with simple ingredients (the usual suspects). I have saved the best for last!!
(As a side note, I do have a different favorite chocolate chip cookie recipe, but it is not made with simple ingredients, and is time consuming, and therefore will be saved for a different post!)
This recipe comes straight from the experts: Cook's Illustrated. If I follow the directions, it comes out perfect every time (Lord knows it takes every ounce of discipline I have for me to follow directions so precisely!)!
If you've read any of Cook's articles/recipes- you know they write a dissertation about the history and evolution of said recipe. This one is no different, and it's an interesting read. For The History of The Chocolate Chip Cookie, click there.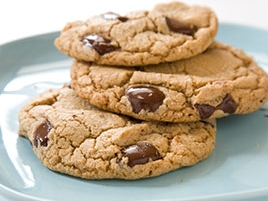 And this is a picture from Cook's Illustrated of their cookies- my pictures turned out super blurry this time, so they aren't even worth posting. And, somehow, all of the cookies have disappeared, and I have no cookies to take pictures of anymore, Lol!!
For the recipe, click here- The Perfect Chocolate Chip Cookies. A word about the recipe- it uses browned butter, which, if y'all hadn't noticed, was the theme running through my holiday cookie tray this year! It, like the other cookies, takes on a nutty-toffee-ness from the browned butter. As far as chocolate chips, we prefer dark chocolate chips. They are so much more satisfying to my chocoholic sweet tooth, and even people who don't like dark chocolate (i.e., Hubby) appreciate the balance between the sweet dough and the darker, less sweet chocolate chip. Also, most chocolate chip cookie recipes have a brown sugar : granulated sugar ratio of 1:1, but this recipe is heavier on the brown sugar, which I think gives them their chewiness on the inside, and complements the nutty-toffee notes from the browned butter.
Merry Christmas, everyone! I hope it was a wonderful holiday for everyone, filled with family, friends, and love! I decided to view being on call at the hospital today as a sort of chance for me to spread the holiday cheer to those who were stuck in the hospital as patients over the holiday, and I really felt like I maybe made a few people smile! Here's to spending Christmas spreading holiday cheer and happiness, maybe not with my own family, but with someone's family!!!
P.S.- and the countdown begins for the after Christmas sales…